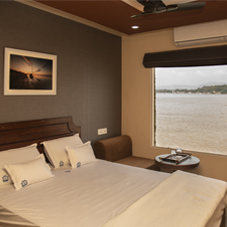 All our rooms have panaromic views, attached bathrooms and luxurious and posh interiors ensuring a luxurios stay.
Ethinic, chinese, continentatal, Indian whatever you want to eat, just tell us.
Embrace the mystic calmness of the mighty Brahmaputra and feel the magic of our rich cultural bio-diversity backed by an impressive flora & fauna.
Curated Packages
Explore, enjoy, play & do much more
Destination Packages
Guwahati - Panikheti - Pobitora -
Sualkuchi - Guwahati
Exlopre the wildlife at Pobitora,
watch Rhinos graze and
explore the magic of golden silk weaving in Sualkuchi
Details
Details
Exlopre the mystic self,
Visit ancient temples
Umananda - Aslwakanta - Kamakhya
Temple Darshan
Miscellaneous Packages
Picnic Cruises / Conference Cruises
Exlopre the scenic beauty of
the Brahmaputra near Guwahati and explore the
magical Brahmaputra
Details
Call us at:
+91 7576866666 | +91 7577966666
For bookings
TESTIMONIALS
INSPIRED BY THE BEAUTY OF LETTING GO? GO TELL YOUR FRIENDS!